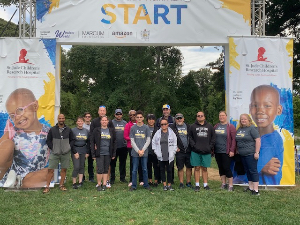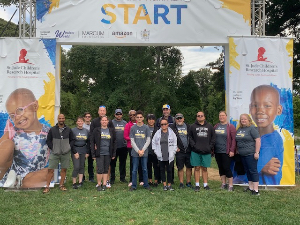 Faith Hope & Love
St. Jude Walk/Run - Washington, DC
Captain: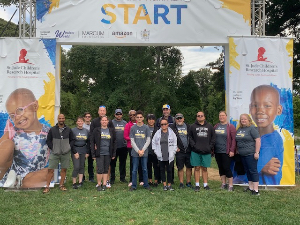 Faith Hope & Love
Together, we can make a difference!
On behalf of the Faith Hope & Love team I want to personally invite you to join us this year in supporting the fight to end cancer for children by participating in the St. Jude Walk/Run on 23 September 2023 at National Harbor (Southpointe)|165 Waterfront Street|Oxon Hill, MD 20745

This is our 9th year for Faith Hope & Love team and we are excited to see you join our amazing journey this year!
Please help us raise the money for St Jude in any way you can. You can support us by joining our team, donating to our team, or making a donation to a team member. Our team goal is to exceed what we accomplished in the past.
Our team stands with St. Jude because....
* St. Jude Children's Research Hospital is a pediatric treatment and research facility focused on children's catastrophic diseases, particularly leukemia and other cancers. The hospital costs about $2.8 million a day to run, but patients are not charged for their care and families never receive a bill from St. Jude for treatment, travel, housing or food!
*Treatments invented at St. Jude have helped push the overall childhood cancer survival rate from 20% to more than 80% since it opened more than 50 years ago.
* St. Jude freely shares the discoveries it makes, and every child saved at St. Jude means doctors and scientists worldwide can use that knowledge to save thousands more children.
* St. Jude has treated children from all 50 states and from around the world.
* St. Jude's goal is to achieve a 100% survival rate.
* St. Jude mission: finding cures and saving children!
* Donations are 100% tax deductible.
There are so many ways to join this amazing movement:
•Share your page/Faith Hope & Love page and spread some love to family & friends.
•Raise funds and earn cool gear to promote St. Jude.
•Wear cool gear and make a difference in the fight against childhood cancer along the way.
•Share/educate those that may need help from St. Jude.
Every dollar makes a difference!
•$2,500 - Helps cover the cost of 16 days of oxygen for a St. Jude patient.
•$1,000 - Helps cover about two-thirds of the cost of one day of chemotherapy.
•$750 - Helps cover the cost of 5 days of oxygen for a St. Jude patient.
•$500 - Helps provide one platelet transfusion for a St. Jude patient.
•$250 - Helps provide a meal card for a St. Jude family for one week.
If you're unable to join us for this event, we would be grateful for your support by donating toward my goal of $1,000.00 or any of our team members. If you wish to participate please join the Faith Hope and Love team by clicking "Join This Team" on the top of the page! Thank you for joining our effort to find cures for the children at St. Jude!
Sincerely,
Nok Satterwhite
Faith Hope & Love
St. Jude Walk/Run - Washington, DC
National Harbor (Southpointe)|165 Waterfront Street|Oxon Hill, MD 20745


View More

Team Progress
of Goal
$9,507 Raised
$10,000.00
Top Teams
Facebook Fundraiser
$1,325
Top Donors
Anonymous
Facebook Fundraiser
Sonya Thornton
Erika Green
Facebook Fundraiser