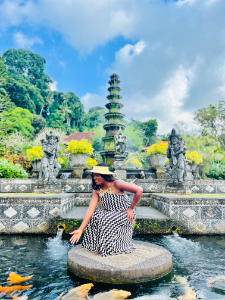 Hi I'm Munah,
Why I Support St. Jude
As a young girl, I have always been driven by service. I enjoy providing service to others through volunteering my time.
It's easy, I believe in the mission and that every child deserves a healthy future. What I can do about it to promote the research that will provide the medical advancement to curing pediatric cancer, I'm willing to do my part by asking as many donors as I can to support this ongoing mission. I am indeed grateful for how advanced medicine has gotten, and I believe it can continue to improve over time and we will fight and cure cancer.
My hiking ladies 'Phillyhikingbeauties' and I decided on fundraising with St. Jude this year because we believe in the mission of this organization. Making memories. Supporting a mission. This November, I'm joining the nationwide movement to honor Childhood Cancer Awareness Month(September) and support those who need us most — the kids of St. Jude Children's Research Hospital.
Can I count on your donation to help me reach my goal?
When St. Jude opened in 1962, childhood cancer was considered incurable. Since then, treatments invented at St. Jude have helped push the overall childhood cancer survival rate from 20 percent to more than 80 percent.
And because St. Jude shares the breakthroughs it makes, every child saved at St. Jude means doctors and scientists worldwide can use that knowledge to save thousands more children.
Thank you for supporting me and the lifesaving work happening at St. Jude today. Let's cure childhood cancer. Together.
View More