Amount Raised:


$130,416
Raised
The 2023 Boston Marathon® St. Jude Hero team has been selected and we no longer have any available entries. If you are interested in applying to be a St. Jude Hero in the 2024 Boston Marathon® or join one of our other World Marathon Major teams, please sign up on our World Marathon Major interest form. Applications will open in the fall, and we will contact you when they do. The fundraising efforts of runners like you help ensure families never receive a bill from St. Jude for treatment, travel, housing or food - so they can focus on helping their child live.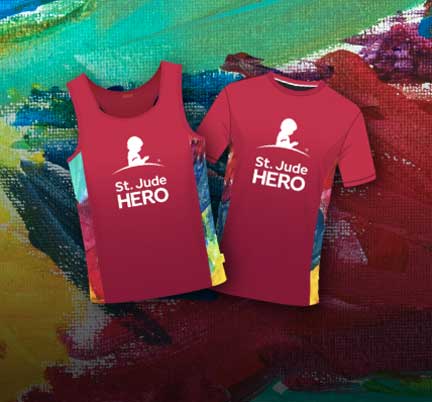 Earn a St. Jude Heroes singlet or tech shirt when you raise $250.00.
How it Works
Application Process
We are reviewing applications on a rolling basis.
We will schedule interviews with a select number of applicants.
Applications close on Friday, November 4, 2022.
Our team will be determined no later than Friday, November 18, 2022.
Benefits
Complimentary Race entry
1:1 fundraising coaching from local St. Jude representative and Boston St. Jude representative.
Training program from local Boston Heroes Coach, Stephen Allison.
Local New England Heroes will also be invited to participate in supported training runs on the Boston Marathon course
St. Jude Hero team gear
3-night race weekend hotel stay at the Westin Copley
Team Dinner at Coach Stephen Allison's home weekend of the race
Fundraising Commitment

All members of the 2023 Boston Marathon St. Jude Heroes team are required to raise a minimum of $10,000. We encourage and expect team members to set a higher personal goal. We will provide each of our runners with full support in their fundraising endeavors and work individually with you to ensure you go above and beyond this minimum commitment.
John Hancock

St. Jude is proud to be an official partner of John Hancock in the Marathon Non-Profit Program. Through this program, John Hancock helps foster healthier, more equitable communities by annually donating 1,000 Boston Marathon entries to select non-profit organizations who use them for fundraising. Last year, John Hancock Non-Profit runner raised $11.7M for their causes.
Health and Safety Guidelines

All runners are required to follow health and safety guidelines set by the B.A.A.
Leaderboards
Top Individuals
Find a Fundraiser
Participant Name
Amount Raised
Miles
Team Name
Amount Raised
Miles
Team Size
You may also be interested in...