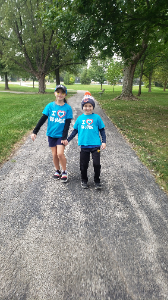 My family supports St. Jude because it is important for my kids to understand the true meaning of giving back with kindness and love. We are blessed to have two healthy children that enjoy taking family walks, playing at the park, participating in sports, and enjoying the Chicago summer without hospital visits or treatment worry.
For us, kids helping kids has such a strong message – that's why we are dedicated to fundraising for the St. Jude Walk/Run event.
Together, nothing is impossible. That's why I've signed up to fundraise for the St. Jude Walk/Run to help find cures for childhood cancer. Join me with a gift today.
View More