2020 Asics Los Angeles Marathon
Los Angeles, California • March 8, 2020
FUNDS RAISED FOR St. Jude
OUR PROGRESS
LOCATION
Los Angeles, California
90012
Over 24,000 athletes from all 50 states and more than 63 countries will set out from Dodger
Stadium to accomplish a personal dream by reaching the Finish Line in Santa Monica.
Join them and do more with your race.
Be a Hero, and run for the kids of St. Jude.
As a St. Jude Hero, you'll raise funds for the kids of St. Jude while you train for your race. The dollars that Heroes raise help ensure families never receive a bill from St. Jude for treatment, travel, housing or food — because all a family should worry about is helping their child live.
How to register for the race as a St. Jude Hero: 1. Register as a St. Jude Hero! 2. Complete your online fundraising commitment form. You will receive an email a one after registering as a St. Jude Hero. A credit card is required to secure your race entry. In the unlikely event you do not complete your fundraising commitment by the deadline, March 20, 2020, your credit card will be charged the difference. 3. Complete the race registration link for the LA Marathon or Charity Challenge. This link will be sent after we have received your commitment form.
Registering as a St. Jude Hero does not guarantee your entry to this event. All Heroes must complete a fundraising commitment form to secure a race entry. A St. Jude representative will contact you regarding your commitment.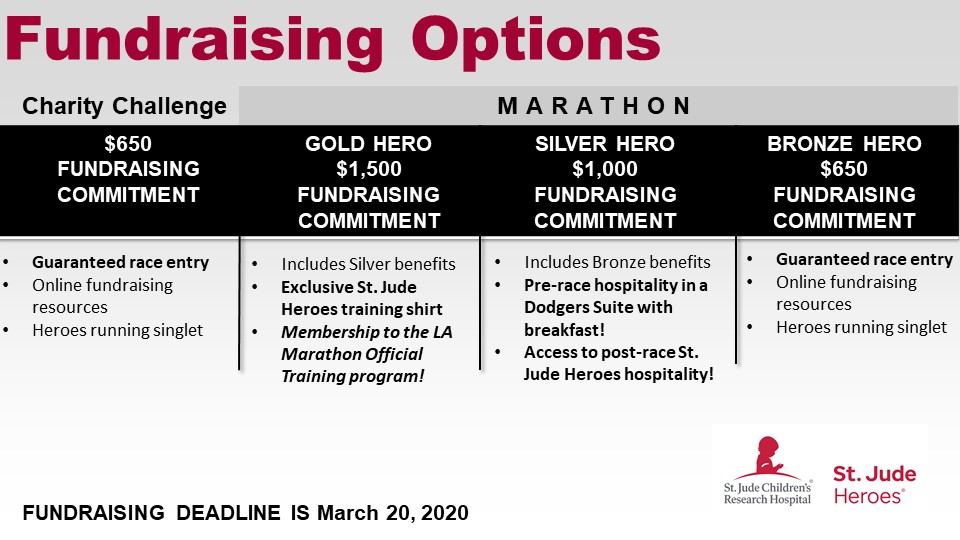 If you have questions or would like more information, please email ryanne.tejeda@stjude.org, or call 213.215.2679.