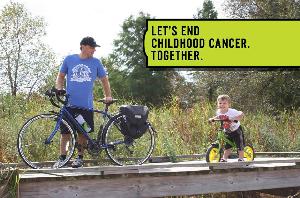 Every year, Domino's raises money for St. Jude. This year, the owner of Domino's in Mokena is Cycling from St. Augustine FL. To San Diego CA. and hoping to raise big for St. Jude. Anyone in our local area that donates at least $5 can receive a FREE MEDIUM 1-TOPPING PIZZA for pick-up at 19310 S LaGrange Rd.
View More
Return to the main discussion page
St Jude
Families never receive a bill from St. Jude for treatment, travel, housing or food -- because all a family should worry about is helping their child live.
Treatments invented at St. Jude have helped push the overall childhood cancer survival rate from 20% to more than 80% since it opened more than 50 years ago. St. Jude won't stop until no child dies from cancer.
Please donate and help me reach my goal!
by Anthony Bronzell on Thu, Nov 02, 2017 @ 7:21 PM

Permanent Link No Comments