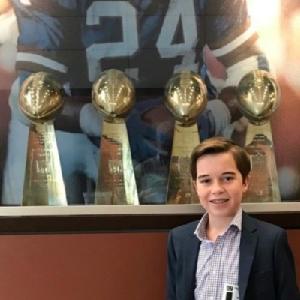 St. Jude Children's Research Hospital is a place that holds very dear to my heart.

When I was 9, I thought I had it bad. My gallbladder stopped functioning and I was in pain, lots of it. Doctors couldn't find out what was wrong.
I went to the Children's Hospital of Philadelphia for an appointment one day, and that's when it struck me, I don't have it so bad.
I saw kids, my age, suffering from something much worse. They were fighting for their lives, they had cancer.
I felt in that very moment a sadness, a sadness that somebody was going through something so awful, especially at a young age. I also felt that I had to do something. I had to make impact.

When I started my blog, The Sports Court, in July of 2019 at 13 years old, I had no clue what it would bring me in to. But I am surely glad it led me to something much bigger than sports, the fight against childhood cancer. In December of 2020, in the midst of the COVID pandemic and many people forgetting their were kids going through a bigger battle than everybody else, I decided to do a fundraiser. Overall, I was happy to raise money and help out such an amazing cause. Donating to St. Jude is the biggest honor of my life and I am more than happy to be a part of the St. Jude Leadership Society. Words cannot describe what St. Jude does for children. They save lives. Kids should be outside, playing soccer, doing what kids do. They should not be inside fighting for their life. I am honored and privileged to be a member of St. Jude Leadership Society - NJ, and I strongly encourage that you donate. Any amount of money goes an extremely long ways to this great organization.
How your donation helps:
Families never receive a bill from St. Jude for treatment, travel, housing or food — because all a family should worry about is helping their child live.
Treatments invented at St. Jude have helped push the overall childhood cancer survival rate from 20% to more than 80% since it opened more than 50 years ago. We won't stop until no child dies from cancer.
St. Jude Children's Research Hospital is leading the way the world understands, treats and defeats childhood cancer and other life-threatening diseases. St. Jude freely shares the discoveries it makes, and every child saved at St. Jude means doctors and scientists worldwide can use that knowledge to save thousands more children.
Thank you for your support! Together we can help St. Jude change the world.
View More