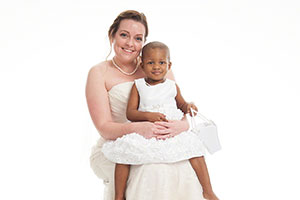 Randy and I would like to dedicate our wedding to the children of St. Jude. As many of you know, Randy and I have lived very busy lives. No matter how hard our day has been, we always remind each other how important it is to be thankful and blessed for what we have. Please take a moment to think about these children and their families as they fight the unknown. Rather than purchasing gifts, we would love to see all of our family and friends make a donation to a hospital and organization that we stand firmly behind.
We are sharing our happily ever after with the kids of St. Jude.
St. Jude kids and the St. Jude mission are close to our hearts. So, in lieu of gifts in celebration of our wedding, please make a donation to St. Jude.
Help us start our life together by helping save the lives of St. Jude kids.
St. Jude is leading the way the world understands, treats and defeats childhood cancer and other deadly diseases.
Treatments invented at St. Jude have helped push the overall childhood cancer survival rate from 20 percent to more than 80 percent since we opened more than 50 years ago.
View More