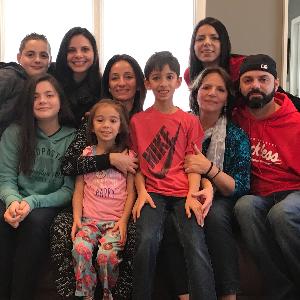 Sept 3, 2018: Our beautiful Mom/Yiayia, passed away peacefully in her sleep early this morning, surrounded by her children. We cannot thank you enough for giving us the opportunity to share such love & support with her in her final days.
Aug 30, 2018: As typical for Eleni Axaopoulos, one of the very first things she told me when we received the devastating news that the cancer in her body will take her from us, was "Please tell everyone not to spend any money on me, have them send the money they'd spend on flowers or gifts to St. Jude."
I am not sure how many days we have left, but I would love to be able to tell her that all the love she has given to her family & friends is now reaching the children that are battling cancer just as she bravely did.
Your generous donation and loving thoughts are a light of hope to St. Jude children and their families. St. Jude is leading the way the world understands, treats and defeats childhood cancer and other life-threatening diseases.
It costs a lot for St. Jude to cure a child with cancer using the latest technologies and care. But because of donations, the price for patient families is $0. Families never receive a bill from St. Jude for anything.
Many families come to St. Jude thinking it's like any other hospital. They expect to pay high fees to get their child the best care. They're overwhelmed with gratitude when they learn St. Jude works to save their child's life for free using world-class care.
Your donations, in honor of Eleni Axaopoulos, will make this possible and give parents hope.
View More