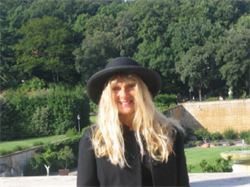 Mary Sue Seymour was a talented woman who wore many hats. A talented artist, illustrator, author, agent, educator, musician--it seemed like her talents knew no bounds, nor did her propensity for kindness. From teaching Vacation Bible School to adult watercolor classes at her alma mater, The State University of New York at Potsdam, to working at a local catholic school with their vocal music and art program, Mary Sue made the most of each and every day.
Beloved wife to Mike Seymour, mother to Luke and Matt, and friend to countless hundreds, her legacy lives on in her children, grandchild Grayson, and in the incredible legacy she created with The Seymour Agency--a literary agency specializing in a broad range of fiction and nonfiction. Mary Sue is directly and indirectly responsible for the publication of thousands of individual books. Her contribution to publishing is immeasurable and has changed countless lives.
Mary Sue Seymour was a member of the Author's Guild, the AAR, ACFW, WGA, and RWA.
She was named ACFW's AGENT OF THE YEAR in 2015.
Mary Sue Seymour was listed by Publishers Marketplace as one of the top dealmakers in the country.
Mary Sue believed in the Bible verse in Romans 10:12 that states, "For there is no difference between Jew and Gentile - the same Lord is Lord of all and richly blesses all who call on him..."
Her faith was of great comfort as she battled Stage IV colon cancer that metastasized to her liver. Always strong, she was oftentimes quoted on Facebook telling friends how much she appreciated her chemo treatments because they extended her time on this earth. Her positive outlook inspired "The Mary Sue Effect" and anyone who knew her would know that her 'glass always half full' optimism was an inspiration to so many.
Mary Sue enjoyed running, participating in many 5ks and half-marathons. So, it is with great pride that The Mary Sue Seymour Foundation awards its very first athletic sponsorship to Lynn Rush, who will be competing in the Boston Marathon in April 2018.
Lynn is an absolutely amazing person, gifted athlete and brilliant author--she is a blessing in our lives, and someone who Mary Sue adored.
The Mary Sue Seymour Foundation looks forward to sponsoring Lynn and raising awareness for all cancer, particularly children's cancer, and we encourage you to lend your support to St. Jude's Children's Hospital.
Be sure to follow the hashtag: #IRun4MarySue on social media to follow Lynn's adventures as she trains for the marathon.
Sincerely,
The Seymour Agency & The Mary Sue Seymour Foundation.
View More