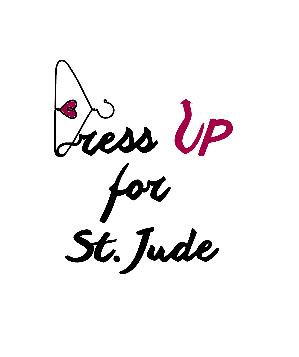 BACKGROUND
Dress Up For St. Jude is an annual fashion sale in it's second year blending fashion, the music row community, and an amazing cause. All proceeds directly benefit St. Jude Children's Research Hospital's music therapy program. The event was founded in 2015 by four friends in the music industry after an inspiring visit to St. Jude Children's Research Hospital. The timing of the event is right before award shows and the holiday season so that women in the Nashville community can find unique, stunning pieces at deeply discounted prices. The second annual Dress Up For St. Jude event will be held on October 6th, 2016 at the Nashville St. Jude Children's Research Hospital offices in Nashville. More event info to follow in coming weeks.
EVENT CONTACT

If you have donations or are interested in becoming a sponsor of this growing community event, please reach out to dressupforstjude@gmail.com or reach us on social media:
Facebook: www.facebook.com/DressUpForStJude
Twitter: @DressUp4StJude
Instagram: @DressUpForStJude
About St. Jude Children's Research Hospital
St. Jude Children's Research Hospital is leading the way the world understands, treats and defeats childhood cancer and other deadly diseases. St. Jude has the world's best survival rates for the most aggressive childhood cancers, and treatments invented at St. Jude have helped push the overall childhood cancer survival rate from 20 percent to 80 percent since we opened more than 50 years ago. St. Jude is working to drive the overall survival rate for childhood cancer to 90 percent in the next decade. St. Jude freely shares the breakthroughs we make, and every child saved at St. Jude means doctors and scientists worldwide can use that knowledge to save thousands more children. Families never receive a bill from St. Jude for treatment, travel, housing and food – because all a family should worry about is helping their child live. Join the St. Jude mission by visiting stjude.org or following St. Jude on facebook.com/stjude and twitter.com/stjude.
What is music therapy?
St. Jude music therapist Amy Love helps St. Jude patients attain emotional goals, such as learning to express themselves by writing and performing songs and discussing song lyrics. Creativity also helps patients cope with disease and its treatment. A clinical and evidence-based practice, music therapy can be used to achieve both musical and non-musical goals. One musical goal for a patient such as Kyle Watson might be learning to play piano. A non-musical goal might be using drums to improve motor skills.
View More