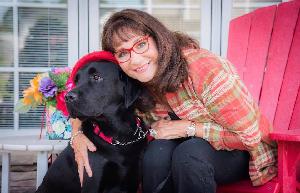 WOOF! WOOF! I'm tail wagging happy to be once again Fundraising for the kids of St. Jude.
Together, nothing is impossible. That's why I've signed up to fundraise for the St. Jude Walk/Run to help find cures for childhood cancer.
Since its founding more than 50 years ago, St. Jude Children's Research Hospital has helped push the overall survival rate for childhood cancer from 20 percent when their doors first opened to more than 80 percent today—but there is still work to be done. And because St. Jude freely shares their discoveries, every child saved at St. Jude means doctors and scientists worldwide can use that knowledge to save thousands more children.
That's why I'm walking and fundraising for St. Jude — to help save more children's lives. Will you support me with a donation to my fundraising page today?
Together, we can help ensure families never receive a bill from St. Jude. Together, we can help treat kids from all 50 states and around the world. Together, nothing is impossible.
St. Jude won't stop until no child dies from cancer — and neither will I.
Join me with a gift today.
View More