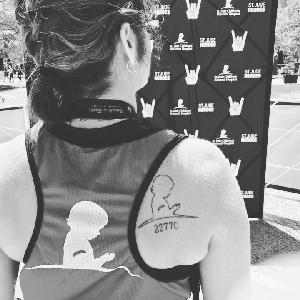 Situations happen in life that, at the time, you just can't figure out why in the world you have to go through them. In my life, the event happened 15 years ago. My family had front row seats to childhood cancer. Luckily, we came out of it with our family intact. As a mother, it was so hard to watch my child go through it all. I became a St Jude Hero to help other parents with children facing a cancer diagnosis. That became my reason why.
I'll keep trying to get across that finish line for the kids.
If you are a runner, or a walker, or a cheerleader, consider joining us on Team Samster as we race again in Nashville in April 2020. I mean November 2020. No really, I mean April 2021!!!!

Thank you for your support!
I am a St. Jude Hero! I have chosen to run for a reason bigger than myself by fundraising for the kids and families at St. Jude. I am training to cross the finish line on race day and with your donation we can cross the fundraising finish line together because the money you donate helps find a cure for childhood cancer.
Did you know:
Families never receive a bill from St. Jude for treatment, travel, housing or food - because all a family should worry about is helping their child live.
Treatments invented at St. Jude have helped push the overall childhood cancer survival rate from 20% to more than 80% since it opened more than 50 years ago. St. Jude is working to drive the overall survival rate for childhood cancer to 90%, and they won't stop until no child dies from cancer.
St. Jude freely shares the discoveries it makes, and every child saved at St. Jude means doctors and scientists worldwide can use that knowledge to save thousands more children.
Donate today to help me reach my goal. Even when the race is over, the fight to end childhood cancer continues.
View More