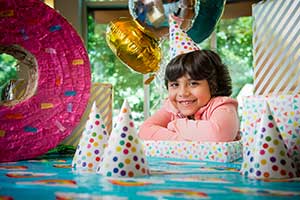 As many of you know, I am currently being treated at Addenbrookes Hospital in England for Ewing Sarcoma a rare type of bone cancer. I have learned so much about "childhood cancer", and one thing stand-out that many people knows so little about it. Many families needed financial supports, medical access for their children diagnosed with cancer. I have learned about many charities and I have chosen St. Jude, one of the two I am supporting. Why do I want to raise money for St. Jude, I have learned that it's not just family who resides in the USA that get the benefits, there are other children with their parent from other countries that receives the care they couldn't from their country.
I have only been in treatment for less than 5 months and the cost of medical care already reached $80,000+. The last thing the families should think about is the financial support, their main focus should the being of their child.
This year, I'm doing something different for my birthday. I'm dedicating it to the kids of St. Jude.
Help me out by not buying me a gift this year. Buy them a gift instead — the gift of another birthday.
Why St. Jude?
Since opening in 1962, treatments invented at St. Jude have helped push the overall childhood cancer survival rate from 20 percent to 80 percent. Families never receive a bill from St. Jude for treatment, travel, housing and food — because all a family should worry about is helping their child live.
That's right: the best care in the world, for free, because of people like us. Now that's something worth celebrating.
Let's get this party started.
View More