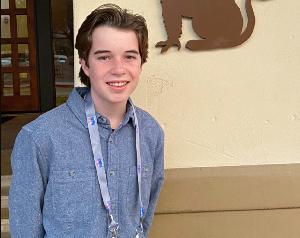 Hello, I am Chris Dailey, some of you may know me, some of you may not.
I am 16 years old and deeply passionate about fighting pediatric cancer. It breaks my heart to see kids my age and often, even younger, have to go through such pain at a young age when they should be outside playing with their family, friends, and more. St. Jude has impacted me in so many different ways. Last year, I joined the St. Jude Leadership Society not knowing what to expect. However, I knew one thing: I am dedicated to helping St. Jude in the fight against childhood cancer.
Since then, I've learned so much about St. Jude and the stories of the kids at St. Jude and their families inspire me everyday to help raise more money and it teaches me something else: life is precious, fragile, and you have to appreciate every single moment. After raising just above my goal of $2500 last year, I want to do more. I want to raise more. I want to hit $10,000 and smash my goal and help out a truly amazing cause that means so much to me. And together, I know we can make it happen!!!
How your donation helps:
Families never receive a bill from St. Jude for treatment, travel, housing or food - because all a family should worry about is helping their child live.
Treatments invented at St. Jude have helped push the overall childhood cancer survival rate from 20% to more than 80% since it opened more than 50 years ago. We won't stop until no child dies from cancer.
St. Jude Children's Research Hospital is leading the way the world understands, treats and defeats childhood cancer and other life-threatening diseases. St. Jude freely shares its groundbreaking discoveries, and every child saved at St. Jude means doctors and scientists can use that knowledge to save thousands more children around the world.
Thank you for your support of my leadership development and St. Jude! Together we can help St. Jude change the world.
View More