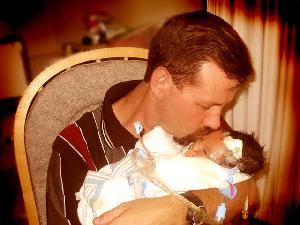 Our son, Julian Joseph Thorvund, passed away from a catastrophic pediatric disease. He was with us for only two days, but touched us in ways that will always be with us.
In his memory, it is our desire to help other children and families with catastrophic pediatric diseases. If we can help one child live a longer, happier life or prevent one parent from having to choose a casket and flowers for their child, then our Julian's memory will live on with others as well.
How your donation helps:
Thanks to donors like you, no family ever receives a bill from St. Jude for treatment, travel, housing or food – because all a family should worry about is helping their child live.

Treatments invented at St. Jude have helped push the overall childhood cancer survival rate from 20% to more than 80% since it opened more than 50 years ago.
Join me! Together we can help St. Jude change the world.
View More