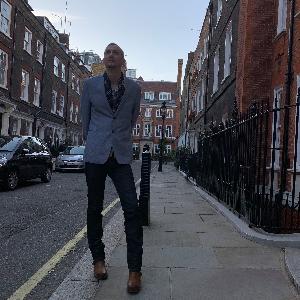 In the spring of 2020, Todd was diagnosed with colon cancer. Despite receiving treatment, the cancer spread into his liver and other areas of his body. Todd passed away on January 31st, 2021 at University of Washington Medical Center at the age of 44.
Todd was truly a Renaissance man in every sense of the term. He was a writer, artist, musician, entrepreneur, and historian. He taught himself to be a very skilled computer programmer, which resulted in a very successful career. He traveled the globe and made friends all over the world. He lived all over the country, eventually settling in Seattle where he met the love of his life, Danelle Jay, and landed what he called his "dream job" at Microsoft.
One of Todd's final wishes was that his story would inspire others to continue the fight against cancer. Your generous donation and loving thoughts are a light of hope to St. Jude children and their families. St. Jude is leading the way the world understands, treats and defeats childhood cancer and other life-threatening diseases.
It costs a lot for St. Jude to cure a child with cancer using the latest technologies and care. But because of donations, the price for patient families is $0. Families never receive a bill from St. Jude for anything.
Many families come to St. Jude thinking it's like any other hospital. They expect to pay high fees to get their child the best care. They're overwhelmed with gratitude when they learn St. Jude works to save their child's life for free using world-class care. Your donations make this possible and give parents hope.
View More