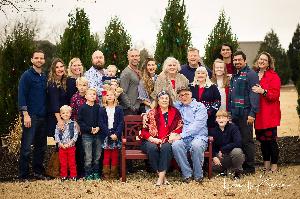 In memory of Dr. Toni England-Morris. Mom to 5, Aunt of 4, Grandma of 7, Wife to Robert, friend to many, and healer of multitudes, especially children. This fund was setup to honor her memory and her work. I think she would have thought it appropriate.
Setup by Eric, please contact me if you have any questions.
Your generous donation and loving thoughts are a light of hope to St. Jude children and their families. St. Jude is leading the way the world understands, treats and defeats childhood cancer and other life-threatening diseases.
It costs a lot for St. Jude to cure a child with cancer using the latest technologies and care. But because of donations, the price for patient families is $0. Families never receive a bill from St. Jude for anything.
Many families come to St. Jude thinking it's like any other hospital. They expect to pay high fees to get their child the best care. They're overwhelmed with gratitude when they learn St. Jude works to save their child's life for free using world-class care.
Your donations make this possible and give parents hope.
View More