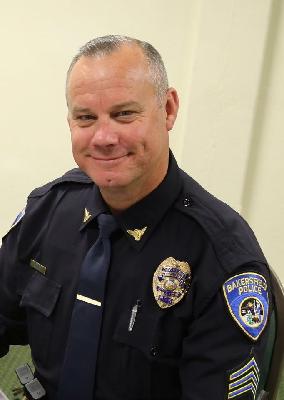 Dennis Alan Moore
December 15, 1969-August 9, 2017
In lieu of flowers, the family suggests donations to St. Jude Children Research Hospital in honor of Sgt. Dennis Moore.
Father, husband, son, and Bakersfield's blue life Dennis Alan Moore passed in peace on Wednesday, August 9 at San Joaquin Community Hospital from a sudden heart attack.
Wednesday morning while getting ready for work, Dennis endured an unexpected chest pain. With the copious amount of stress gained over the years, the pain was later discovered as an occurrence from atherosclerosis of the right coronary artery. After several attempts of revival, his body could no longer fight and soon let go of all life. He was 47 years young and was surrounded by his loved ones.
The world was introduced to Dennis on December 15 of 1969 in Canoga Park, CA. He and his younger sister Kimberly grew up in the Pine Mountain area and attended Bakersfield High School where he graduated in 1988. He then followed in his father's footsteps and pursued a career in law enforcement in May 1991 after graduating from the Bakersfield Police Academy. Not long after, he landed his position as officer at the Arvin Police Department before transferring to the Bakersfield Police Department in 1997 where he was promoted to senior officer in 2004 and later to sergeant in 2011. Dennis respectfully worked in law enforcement for over 20 years, committing his life to keeping his community safe. He was just two years from retirement.
Dennis met his loving wife of 23 years in 1989 while attending Bakersfield College as she was on her way to becoming a Registered Nurse. At the time, Gina was not on the same path as Dennis, but later found herself walking down the aisle just four years later as the love her life patiently waited for their lifelong commitment as Mr. and Mrs. Dennis Moore. Together, they continued to build a life's journey with the growth of their family, welcoming three children into the world Jarrett, Ashley, and Melissa.
As a private man, Dennis leaves behind a plethora of cherishing memories for his loving family who lives on to honor their great role model. He is survived by his wife, their three children, his parents Sandra and Thomas Moore, and his sister.
Dennis was a distinguished man of duty, beloved husband, father, and son, and an all-around caring individual that will be fondly remembered as the awe-inspiring man that he devoted himself to be for his family, friends, and the entire Bakersfield community.
His impact was evident through the lowering of the flags to half-staff, the candlelight vigil, and the numerous words of support and encouragement.
No matter the circumstance, his line of work always consisted of helping others achieve greatness and that will without a fail remain as his legacy, now and forever.
Your generous donation and loving thoughts are a light of hope to St. Jude children and their families. St. Jude is leading the way the world understands, treats and defeats childhood cancer and other life-threatening diseases.
It costs a lot for St. Jude to cure a child with cancer using the latest technologies and care. But because of donations, the price for patient families is $0. Families never receive a bill from St. Jude for anything.
Many families come to St. Jude thinking it's like any other hospital. They expect to pay high fees to get their child the best care. They're overwhelmed with gratitude when they learn St. Jude works to save their child's life for free using world-class care.
Your donations make this possible and give parents hope.
View More