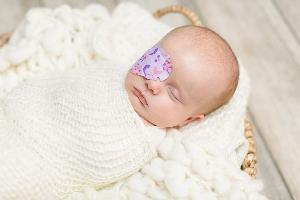 This is the story of Daphne Elizabeth born on August 29, 2017. Daphne is our third baby and first little girl...she had two big brothers waiting for her to arrive. However, a few days before Daphne was born, a late ultrasound scan showed a dilated right lateral ventricle in her brain that was not seen on a previous scan. Because of this, the day she was born held a lot of unknowns for our family and her future. Daphne arrived at 3:57pm with an unexpected mass in her right eye socket, something that was not seen in the ultrasound. Within only an hour or so of being born, Daphne was airlifted to Arkansas Children's Hospital because she needed specialists to determine what the mass in her right eye actually was.
She spent the first two weeks and two days of her life in the NICU at Arkansas Children's Hospital where we experienced numerous highs and lows related to her potential diagnosis. Ultimately, after a few MRIs and a biopsy, we learned that Daphne was born with a type of tumor known broadly as PNET (primitive neuroectodermal tumor) which is a malignant and highly aggressive type of embryonal cell tumor. Before Daphne was discharged from Arkansas Children's Hospital we were told that her tumor was inoperable with no viable treatments available, and she had only months to live.
With this diagnosis and prognosis, Arkansas Children's Hospital assisted us with a consult at St. Jude Children's Reseach Hospital's Brain Tumor Program in order to confirm the diagnosis as well as to determine that a treatment truly did not exist. St. Jude's reviewed Daphne's case, and the specialists specifically determined that she had an intraocular medulloepithelioma in her right eye socket that had metastasized through the optic nerve to her midbrain...once again confirming that no treatment was available.
Our Daphne passed away around 3pm on October 26, 2017...just a brief life of almost 58 days. She was loved beyond belief, and we will miss her terribly. We want to honor her through this fundraising page as we truly believe that the children and families that are tragically touched by childhood cancers can benefit tremendously from the research and work done by the St. Jude Children's Research Hospital. Although there was no cure for Daphne, we hope that future research will look for ways to better diagnose and treat congenital brain cancers and in years to come, the prognosis will not almost always be terminal.
Learn more about St. Jude's HERE:
Your generous donation and loving thoughts are a light of hope to St. Jude children and their families. St. Jude is leading the way the world understands, treats and defeats childhood cancer and other life-threatening diseases.
It costs a lot for St. Jude to cure a child with cancer using the latest technologies and care. But because of donations, the price for patient families is $0. Families never receive a bill from St. Jude for anything.
Many families come to St. Jude thinking it's like any other hospital. They expect to pay high fees to get their child the best care. They're overwhelmed with gratitude when they learn St. Jude works to save their child's life for free using world-class care.
Your donations make this possible and give parents hope.
View More