45th Marine Corps Marathon
Washington, DC • October 25, 2020
FUNDS RAISED FOR St. Jude
OUR PROGRESS
Thank you for registering as a St. Jude HeroŽ. We appreciate your patience during these past few months of uncertainty and your continued support of St. Jude Children's Research Hospital. In these challenging times, one thing remains constant your support as a St. Jude Hero ensures that families will never receive a bill from St. Jude for treatment, travel, housing or food because all a family should worry about is helping their child live.
As of June 24, 2020, the Marine Corps Marathon has been modified due to coronavirus related health and safety concerns. We too were looking forward to a safe and successful 45th Marine Corps Marathon. In light of the current health concerns surrounding COVID-19, we support and respect this decision and the abundance of caution the Marine Corps Marathon has taken to protect participants and spectators. As a charity partner, we are grateful to all St. Jude Heroes and donors who have supported our mission through this event.
Be sure to follow along on the St. Jude Heroes Facebook page to join us for virtual challenges throughout the fall. In moments that separate us, we come together as one for those who need us most. Because together, nothing is impossible.
For more information, please email stjudeheroes@stjude.org. or call 800-211-3066.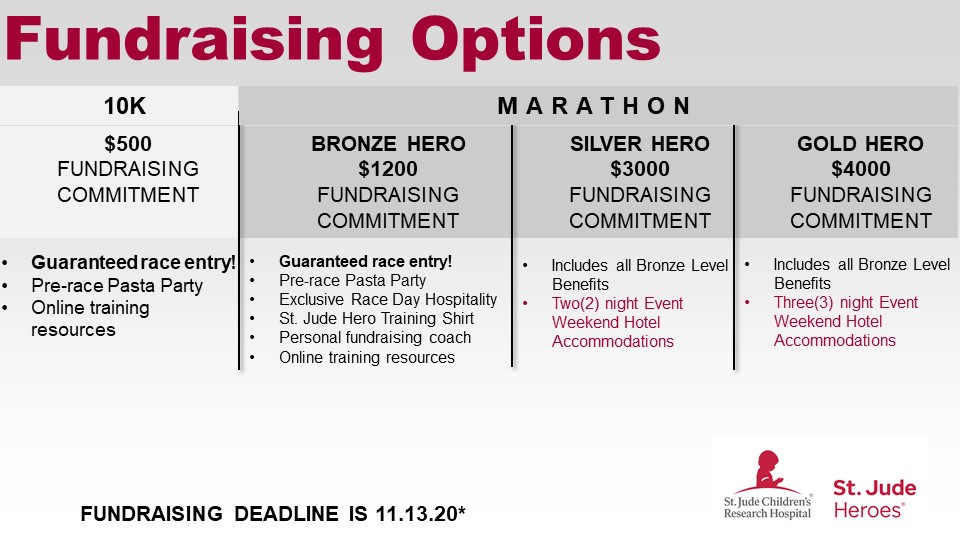 If you have questions or would like more information, please email susan.graham@stjude.org, or call 901-578-6970.