2020 Bank of America Chicago Marathon
Chicago, Illinois • October 11, 2020
FUNDS RAISED FOR St. Jude
OUR PROGRESS
LOCATION
Chicago, Illinois
Registration for the 2020 Bank of America Chicago Marathon
St. Jude Heroes team is now closed.
If you have a race entry from the Bank of America Chicago Marathon, and would like to fundraise as a St. Jude Hero®, please follow these easy steps:
1. Join the St. Jude Heroes program.
2. Commit to raising a suggested minimum of $500 for our mission: Finding Cures. Saving Children.
3. Choose the Classic Hero fundraising level and earn awesome St. Jude gear!
As a St. Jude Hero®, you'll raise funds for the kids of St. Jude while you train for your race. The dollars that Heroes raise help ensure that families never receive a bill from St. Jude for treatment, travel, housing or food — because all a family should worry about is helping their child live.
Do more with your race. Be a Hero, and run for the kids of St. Jude.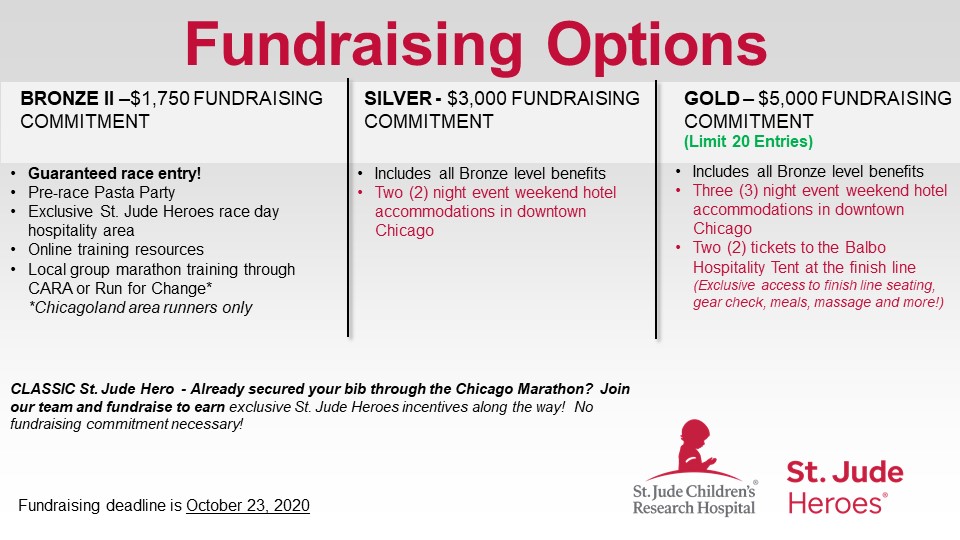 If you have questions or would like more information, please email susan.graham@stjude.org, or call 901-232-5572.