2022 Walt Disney World© Marathon Weekend
Orlando, Florida • January 5-9, 2022
FUNDS RAISED FOR St. Jude
OUR PROGRESS
LOCATION
Walt Disney World®
Orlando, Florida
Join Mickey and friends for a magical race weekend during the Walt Disney World® Marathon Weekend this January. Do more with your race and run as a St. Jude Hero!
As a St. Jude Hero®, you'll raise funds for the kids of St. Jude while you train for your race. The dollars that Heroes raise help ensure that families never receive a bill from St. Jude for treatment, travel, housing or food — because all a family should worry about is helping their child live.
How to register:
1. Register as a St. Jude Hero!
2. Complete your online fundraising commitment form. You will receive your fundraising commitment link a few days after registering. A credit card is required for this form and to secure your race entry. In the unlikely event you do not complete your fundraising commitment by the deadline, January 21, 2022, your credit card will be charged the difference. Click here to access the commitment form: www.stjudeheroescommit.org
3. Once we receive your commitment form, we'll email you the race registration link from runDisney to register for your race! All Heroes must have a completed commitment form to participate in the event.
As a reminder, all race entries are non-refundable, non-transferrable and cannot be deferred. Your registration as a St. Jude Hero is a commitment to the kids at St. Jude. Your fundraising commitment, and race registration, may only be canceled under the following extenuating circumstances:
Medical injury, with a valid doctor's note on office letterhead
Pregnancy, with a valid doctor's note on office letterhead
Military deployment, with a valid letter from your commanding officer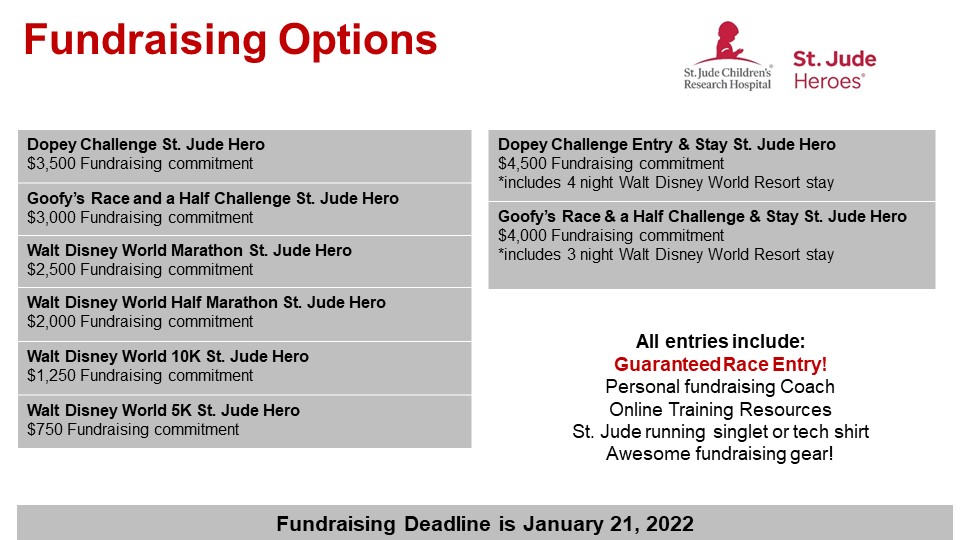 Dopey Challenge (5K, 10K, Half Marathon & Marathon)
Goofy's Race and a Half Challenge (Half Marathon & Marathon)
If you have questions or would like more information, please email lauren.rainwater.contractor@alsac.stjude.org.
All Disney names and logos are used with permission, which in no way constitutes an endorsement by Disney, express or implied, of any organization, company, or fundraising campaign. Disney does not control or guarantee the accuracy, relevance, timeliness or completeness of information contained on this website. The views and opinions of authors expressed herein do not necessarily reflect those of Disney, and agreement with those views may not be implied by use of the Disney names and logos. ©Disney