Parvatiben Kuverjibhai Patel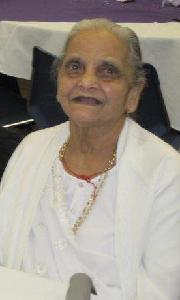 Team Fundraising Goal: $1,000.00
Total Number of Gifts: 25
Total Value of Gifts: $1,766.00
Please bookmark this page.
Recent Donors
Misha and Steve Freyaldenhoven
Ramesh & Vinna
Chandrakant & Ambaben
Ranchod & Chandan
Suresh & Ansuya (Santa Maria)
Cathey Anderson
Vijay & Kala
Kris & Nalini
Jagdish & Hansa
Suru, Indu, Mana, Shasi, Sharad, Urvashi.

Full Donor List
*Please note that if you anonymously donate to this web page, your name will not be shown on the list of donors that is displayed on this web page. However, the person who set up this web page may be notified of your donation, although the amount of the donation will not be provided.
Parvatiben was a long time Southern California resident, and leaves behind her son Maganbhai, daughter in law Shilaben, her daughter Daksaben, son in law Pankajbhai, five grandchildren and four great grand children.
---
Does this page contain objectionable content? Please inform the system administrator.