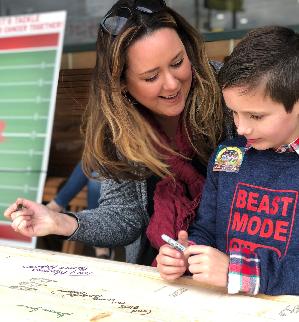 Virtual Wall Stud Signing
Welcome to the Bryan-College Station St. Jude Dream Home Showplace. You may not be a carpenter, but you can help build this home in Mission Ranch by donating $20 to have your name commemorated on one of the wall studs after the framing of the home is complete. After January 1st, all names will be gathered from this donation page, and will be transferred to the wall studs on the home.
How to donate:
Click "Donate to this Team" above.
Select the "Other" amount button
Donate a minimum of $20
Your name will be written on a wall stud after January 1st.
How your donation helps:
Thanks to donors like you, no family ever receives a bill from St. Jude for treatment, travel, housing or food — because all a family should worry about is helping their child live.
Treatments invented at St. Jude have helped push the overall childhood cancer survival rate from 20% to more than 80% since it opened more than 50 years ago.
Join us! Together we can help St. Jude change the world.
View More
FUNDS RAISED FOR ST. JUDE
OUR TEAM'S PROGRESS
View More

Russ Laney
$0