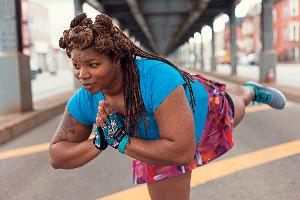 Hey loves!
My name is Latoya Shauntay Snell and I'm from Brooklyn, NY. For the first time, I opted to run for charity and wanted to run for more than myself. In turn, I thought fundraising for St. Jude's Children's Research Hospital was the best way to go. I'm running for kids who might be too sick to run today, but who could one day be running alongside me because the money I raised helped find a cure for childhood cancer.
Families never receive a bill from St. Jude for treatment, travel, housing or food — because all a family should worry about is helping their child live.
Treatments invented at St. Jude have helped push the overall childhood cancer survival rate from 20% to more than 80% since it opened more than 50 years ago. St. Jude is working to drive the overall survival rate for childhood cancer to 90%, and they won't stop until no child dies from cancer.
As a parent to a type one diabetic, it's not easy paying for medical bills. Honestly there's no price tag on a human life but medical treatments aren't cheap. If you could please donate and help me reach my goal, that would be phenomenal.
Love and Light,
Latoya Shauntay Snell
Running Fat Chef
View More