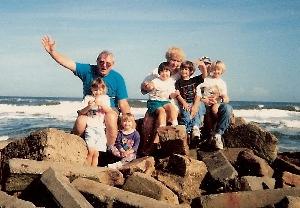 Bud Manning devoted his life to helping children of all ages! From being a protector to his childhood buddy, to being active at his church where he played various sports and coached basketball teams, to working for the YMCA and colleges in many different roles, and after retirement chosing to continue working with children as a substitute teacher at Douglas Anderson School of the Arts in Jacksonville, Florida.
He loved helping point kids in the right direction and his 5 kids all feel very fortunate to have had him as their dad! We are all very proud of him including his wife of 63 years who was his biggest cheerleader!
Last week his wife, Pat, shared with us a story of how St. Jude meant so much to him. She mentioned even when money was tight, he always found a way to give them a little something. Thank you for your generous donation! Your loving thoughts are a light of hope to St. Jude children and their families. St. Jude is leading the way the world understands, treats and defeats childhood cancer and other life-threatening diseases.
View More