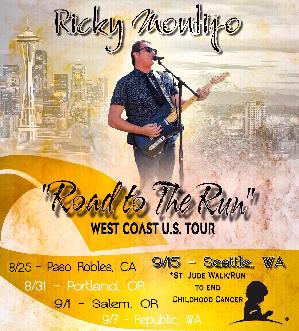 I am dedicating my #RoadToTheRun tour to the St. Jude Walk/Run to End Childhood Cancer, and I need you to help me reach my fundraising goal. I'll also be performing at the event in the Mural Amphitheatre in Seattle! Support the children and families directly by making a donation or by joining my team.
Why I support St. Jude:
Families never receive a bill from St. Jude for anything – because all a family should worry about is helping their child live.
St. Jude has helped push the overall survival rate for childhood cancer from less than 20% when we first opened our doors to 80% today. St. Jude won't stop until no child dies from cancer.
To follow along the tour:
Hashtag: #RoadtotheRun
www.RickyMontijo.com
www.Instagram.com/RickyMontijo
www.Facebook.com/RickyMontijoMusic
www. YouTube.com/RickyMontijo
View More