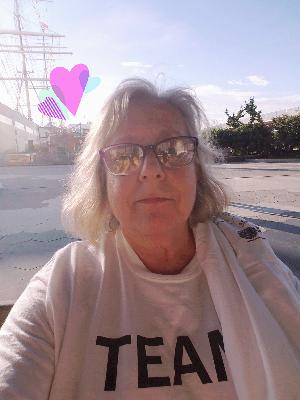 September 22, 2018
Today I did the St. Jude Walk/Run to End Childhood Cancer, and I still need you to help me reach my fundraising goal. Support me by making a donation.
The day was beautiful at South Street Seaport and hundreds of participants raised appreciated funds. There were scout troops, fraternities, and sororities walking and raising funds. There were multigenerational families walking "in honor of" or "in memory of" a beloved child, which is sad to see, but they are showing their love, grace, and courage to keep the good work of St. Jude Children's Hospital and Research Center going.
Volunteers were great cheerleaders and helped things run smoothly. The Local Iron Workers' Union and personnel from sponsors--American Airlines, Lancôme of Paris, and Target to name a few--donated time and energy. Of course, the NYPD and FDNY protected us along our path.
It was an inspiring and uplifting day.
Why I support St. Jude:
Families never receive a bill from St. Jude for anything – because all a family should worry about is helping their child live.
St. Jude has helped push the overall survival rate for childhood cancer from less than 20% when we first opened our doors to 80% today. St. Jude won't stop until no child dies from cancer.
St. Jude researchers and their efforts are world class.
I have a personal devotion to St. Jude and pray to him often. He always answers my prayers in some way. Part of the Novena Prayer is to make St. Jude's name known to those who need hope. Well, Danny Thomas already did that, so rather then reinventing the wheel, I have chosen to support the hospital and research center that he founded and the families in their care.
My sister, Donna, is ever grateful to the Shriners because her son needed several orthopedic surgeries, and in their hospitals, there was no cost and great care. Her gratitude certainly inspires me to try to do the same for St. Jude's families. As a parent, I can't imagine not being able to get care for a child who needs medical attention. It is heartbreaking enough that a child needs medical attention and even more so if unable to get it.
Please help.
THANKS!!
Beth Gonzalez-Dolginko
View More