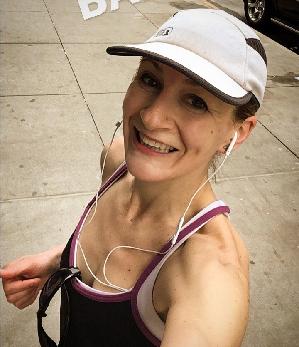 Hi there! Welcome to my page! I'm Alison, and I'm so excited to be running the Rock 'n' Roll Nashville Marathon as a St. Jude Hero, raising money for St. Jude Children's Research Hospital!
As a yoga and fitness instructor in New York City, I see on a daily basis the positive impact that movement has on my students bodies, minds, and lives. Now I'm excited to be using my passion for movement to help create an impact for the kids and families of St. Jude.
Here's a little about me... I began running about 16 years ago (hard to believe!) at a time in my life when I was feeling slightly lost, confused, and unsure of myself. Through running, I cultivated courage by facing challenges, and confidence by overcoming them. My life changed dramatically the more I ran, to the point where I now have a career in fitness, helping others create lasting and positive change of their own through movement.
Now I'm taking it to the next level, using running, which has been so transformative for me, to help create change for others. St. Jude has always been an important charity to my family and myself. St. Jude is leading the way the world understands, treats and defeats childhood cancer and other life-threatening diseases. Thanks to donors like you:
- Families never receive a bill from St. Jude for treatment, travel, housing or food, because all a family should worry about is helping their child live.
- Treatments invented at St. Jude have helped push the overall childhood cancer survival rate from 20% to more than 80% since it opened more than 50 years ago. St. Jude won't stop until no child dies from cancer.
Pretty great, right?
I believe that movement is transformative. It has the power to change bodies, minds, and lives. And in this case, it's not just our lives, but the lives of others as well.
I know that sometimes the problems of the world seem overwhelming, sometimes it seems like there's nothing we can do to make a difference. But this is something we CAN do to make a real difference in the lives of kids and families who really need it. Please help me help them by making a donation to my fundraising effort for St. Jude. Every little bit matters, and every little bit is appreciated!
On behalf of myself and the kids and families of St. Jude, thank you so much for your support -- it truly means the world!
View More