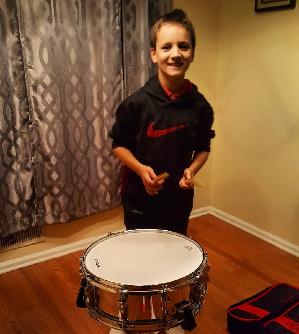 Help me raise funds for St. Jude!
I've joined the fight to help end childhood cancer by participating in the St. Jude Math-A-Thon. I'm solving math problems and raising funds to help St. Jude Children's Research Hospital. You can help me reach my fundraising goal for the kids of St. Jude, who are battling cancer and other life-threatening diseases.
Last year, you helped me raise over $700 for St. Jude. This year, I'm going for $800. Can you please help me and my school reach this goal?
How your donation helps:
Families never receive a bill from St. Jude for treatment, travel, housing or food -- because all a family should worry about is helping their child live.
Treatments invented at St. Jude have helped push the overall childhood cancer survival rate from 20% to more than 80% since it opened more than 50 years ago. St. Jude is working to drive the overall survival rate for childhood cancer to 90%, and we won't stop until no child dies from cancer.
Here are some ways your donations help.
Every Dollar Counts
Every dollar donated to St. Jude Children's Research Hospital counts! Take a look at some of the possibilities that your effort could provide to the kids and families of St. Jude.
Infant Care Supplies for 10 Babies: $50
These supplies help parents and nurses care for babies in treatment and include items like diapers, baby bottles, sippy cups, pacifiers, footies and heel warmers.
Wagon: $70
Wagons can make traveling through the halls of St. Jude easier for parents and more fun for a young child.
Parties to celebrate birthdays, holidays and "coming off chemo": $75
St. Jude provides parties, decorations, cakes and more to keep spirits high during the holidays and to celebrate special occasions like birthdays and a child's completion of chemotherapy treatment.
Creative Toys: $100
Play is an essential part of every child's life, and it's important for the children to have fun as often as possible. At St. Jude, colorful, toy-filled play areas are just as plentiful as exam rooms.
Delicious Meals: $210
St. Jude provides meal cards so that patients and families can enjoy the comfort and convenience of good, nutritious meals in the Kay Kafe, our cafeteria.
One Day of Oxygen: $447
Oxygen is key to keeping the immune system strong. A gift of oxygen can help a young body thrive and help fight cancer at the cellular level.
Child-sized Wheelchairs: $700
These special wheelchairs help children move easily through St. Jude.
Airfare for a parent and child: $1,000 Average
For a patient referred to St. Jude, the hospital covers the cost of airfare for a child and one parent or guardian.
Thank you for your support!
View More