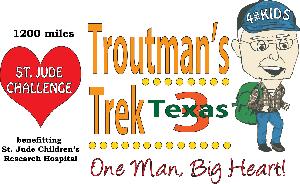 In 2014, Dean Troutman walked 700 miles around Illinois to raise money for Troutman Park, which was established in memory of his late wife, Dorothy (Peggy) Troutman. Through the support and generosity of the communities and people along his route, Dean successfully raised $70,000 to install a playground at the park for the families of Princeville, Ill to enjoy.
A year later, Dean felt like he still had more walking to do. This time, he wanted to walk for a different community: the children at St. Jude Children's Research Hospital in Memphis, Tenn. On Troutman's Trek 2 Memphis, Dean raised $10,000 by walking 500 miles from Princeville to Memphis.
This year, Dean decided to walk from Yoakum, Texas back to Princeville, Illinois on a 1,200 mile trek. After a few days of walking, plans changed, and he decided to work with his organizers back in Princeville to connect with classrooms all over the country to encourage students to organize fundraisers in their own communities toward Dean's St. Jude goal. Please consider helping Dean meet his goal for the kids of St. Jude.
How your donation helps:
Families never receive a bill from St. Jude for treatment, travel, housing or food — because all a family should worry about is helping their child live.
Treatments invented at St. Jude have helped push the overall childhood cancer survival rate from 20% to more than 80% since it opened more than 50 years ago. We won't stop until no child dies from cancer.
St. Jude Children's Research Hospital is leading the way the world understands, treats and defeats childhood cancer and other life-threatening diseases. St. Jude freely shares the discoveries it makes, and every child saved at St. Jude means doctors and scientists worldwide can use that knowledge to save thousands more children.
Thank you for your support! Together we can help St. Jude change the world.
View More