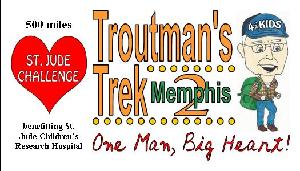 Dean Troutman is an 85 year old man from Princeville Illinois. Last year, he completed Troutman's Trek a 700-mile journey around the state of Illinois to raise money for Troutman Park as a memorial for his late wife.
This year, he will be walking 550 miles from Princeville, Illinois to Memphis, Tennessee for St. Jude. Mr. Troutman has a big heart and would like to continue his charitable activities by supporting St.Jude Chlidren's Research Hospital. Please help him reach his fundraising goal.
How your donation helps:
Thanks to donors like you, families never receive a bill from St. Jude for treatment, travel, housing or food – because all a family should worry about is helping their child live.

Treatments invented at St. Jude have helped push the overall childhood cancer survival rate from 20% to more than 80% since it opened more than 50 years ago.

Join us! Together we can help St. Jude change the world.
View More