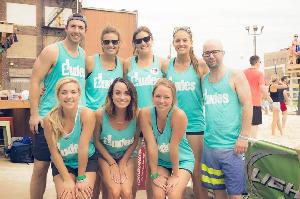 Thank you for supporting the St. Jude Dudes!
The Dudes is a St. Louis based running and fundraising team who support St. Jude Children's Research Hospital. St. Jude is a hospital located in Memphis, Tennessee that takes on patients from across the country and around the world who have the toughest cases of childhood cancer and deadly diseases. Thanks to donors like you, no family ever pays for anything at St. Jude including treatment, travel, food, and lodging! Not only is St. Jude a world class hospital, they are pioneers in the research of childhood cancer and have helped increased survival rates from 20% to 80% since they opened in 1962.
The Dudes began in 2012 as a fundraising team for the St. Jude Memphis Marathon that December. Help us hit our goal of raising $200,000 (since we began) by December 31st! We are only a little more than $3,000 away!
Donate here online!
Spread the word of the Dudes on social media.
Follow us on Instagram at @StJudeDudes, Twitter at @StJudeDudes, and follow our St. Jude Dude Facebook page! Like and share our posts and eventsParticipate in or sponsor our fundraisers
Check out our website at stjudedudes.com
We will continue to update this page with additional fundraiser throughout the year. Please watch our video to learn why we choose to raise money for St. Jude! https://www.youtube.com/watch?v=mcHlWgmF7HE
Thank you and God Bless,
The Dudes
View More