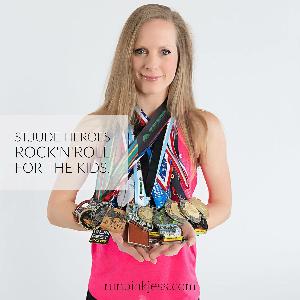 Ah! So excited for the St. Jude Nashville journey year FOUR! I've taken the marathon from a 3:47 to a 3:28 but even more exciting is we have nearly QUADRUPLED our fundraisers! With our first year bringing in $600 and last year we hit over $2000 since we started #TeamPayne. Our Team has grown into #TeamPayne & Co. since our running and raising funds has inspired others to join in the efforts. So, welcome to the most epic fundraiser effort of the year!

And can I just tell you how much I love this profile photo?! This was Nashville 2017 and I was about FIVE WEEKS PREGNANT and didn't even know it! How amazing it was to run such a strong race while growing a strong little human.
As a mom to one healthy young boy (and now soon-to-be new baby Due 12/31/17!), I realize how BLESSED we are...but life can turn in a heartbeat...And the pain is heartbreaking for those who aren't so lucky. Who knows if I will need St. Jude in the future?
Running this marathon means a lot more to me than just running. I'll be a new mother all over again helping fight for all of those mothers (and fathers) out there who desperately need hope. If there's one thing I know, it's that life is short! There's no time to waste! These funds go DIRECTLY to St. Jude Hospital. Would you please consider helping?
Your donation doesn't have to be much. $1 goes a long way when multiplied by 100 people!
I will be hosting lots of fun giveaways, challenges and cool fundraisers coming up so be on the lookout!
...No long run can compare to a child's battle with cancer...Childbirth is hard. Losing a child is harder...this is why I run. Run for those who can't.
never stop giving. doing good. spreading LOVE.
Run and not grow weary...Isaiah 40:31
Did you know?
Families never receive a bill from St. Jude for treatment, travel, housing or food — because all a family should worry about is helping their child live.
Because the majority of St. Jude funding comes from people like you, St. Jude has the freedom to focus on what matters most – saving kids regardless of their financial situation. (That means your donation, no matter what the size, will help!)
St. Jude is working to drive the overall survival rate for childhood cancer to 90% by 2020.
St. Jude won't stop until no child dies of cancer, and neither will I. Will you join me and be a Hero, too?
Thank you for your support!! visit http://www.runpinkjess.com to keep up with how training is going!
Jess <3
View More