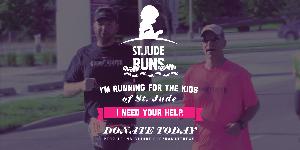 I recently visited St. Jude Children's Research Hospital, and I am as committed as ever to doing what I can to help the kids of St. Jude who are battling cancer and other life-threatening diseases! I'm part of this year's relay team for the St. Jude Peoria Run - and I need your help! Please help me reach my fundraising goal, so that together we can help the kids of St. Jude.
Thanks to generous donors like you:
Families never receive a bill from St. Jude for treatment, travel, housing or food — because all a family should worry about is helping their child live.
Treatments invented at St. Jude have helped push the overall childhood cancer survival rate from 20% to more than 80% since it opened more than 50 years ago.
St. Jude won't stop until no child dies from cancer, and neither will I. Will you support me by making a donation?
Thank you!
View More