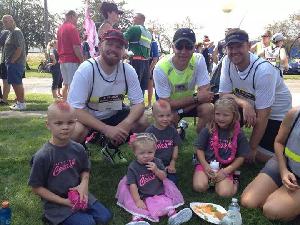 For the third straight year, I'm participating in the St. Jude Bloomington to Peoria Run to raise funds that will help St. Jude Children's Research Hospital find cures and save children's lives. The last two years have been great experiences and with the help and support of family and great friends like you, I raised over $2,000! I'm running again because I want to do more. My goal this year is to raise another $1500. I need your help!
Cancer is at its worst when it attacks a child. I'd be grateful for your help in bringing forward the day when we can celebrate a cure for cancer!
Will you join me in helping the children of St. Jude? Any donation will help....
Did you know?
Families never receive a bill from St. Jude for treatment, travel, housing and food

–

because all a family should worry about is helping their child live.

Because the majority of St. Jude funding comes from individual contributors, St. Jude has the freedom to focus on what matters most – saving kids regardless of their financial situation.

St. Jude is working to drive the overall survival rate for childhood cancer to 90 percent in the next decade.
St. Jude won't stop until no child dies of cancer, and neither will I. Will you support me by making a donation?
View More