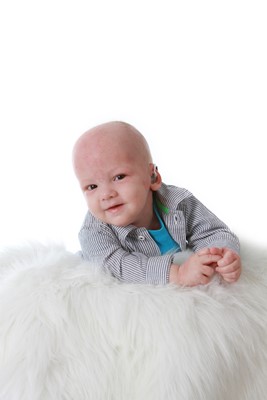 A Birthday Wish for Noah
Little Noah was born with a brain tumor.
Even worse, the tumor was a cancerous one known as glioblastoma. Noah underwent emergency surgery, but his doctors in Florida knew that additional treatment would be needed to save his life. They referred baby Noah to St. Jude Children's Research Hospital.
At St. Jude, Noah's treatment has included chemotherapy and surgery to remove additional tumor growth, but his family hasn't had to pay for any of it. At St. Jude, families never receive a bill for anything – treatment, travel, housing or food – because all a family should worry about is helping their child live.
Upon learning this, Noah's mom said, "The weight that was lifted ... I can't even describe how wonderful it is, and what a blessing it's been for us."
With Noah at a crucial point in growth and development, his doctors and therapists at St. Jude worked hard to keep him on track by providing physical therapy, occupational therapy, speech therapy and even nutrition.
"Noah wouldn't be turning 1 without St. Jude," says Noah's mother. And despite all he's been through, Noah is a cheerful, active baby.
In honor of Noah's first birthday, a milestone that he may not have had without the help of St. Jude, his family pledged to raise $10,000. They were overwhelmed when the goal was surpassed in less than an hour. Journeys like Noah's wouldn't be possible without friends like you. Just yesterday, Noah's family received another piece of good news from St. Jude – his most recent scans were clear. To celebrate, Noah's family has increased his goal to $50,000.
Please make a donation today to celebrate Noah's first birthday.
View More