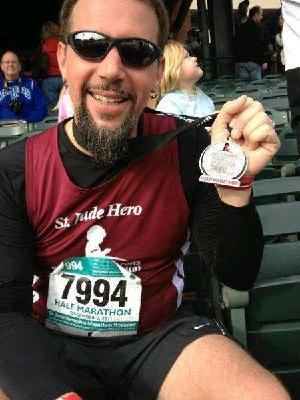 For the fourth time I'm running the St. Jude Memphis Half Marathon and have committed to raising funds as a St. Jude Hero to support the hospital's lifesaving mission of finding cures and saving children. I need your support to help me reach my fundraising goal.
I may not be a doctor who has the tools to cure cancer but I can donate and I can run. Each step I take on December 6th will represent a smile on the face of a St. Jude patient because they know the staff are doing everything they can to cure their cancer thanks to donors like you and I.
The children of St. Jude have touched my heart over the years. I've spoken with many of them and their families and believe me, they have hope and St. Jude gives them that hope!
Please consider a donation on my behalf and thank you from the bottom of my heart.
Here are a few quick facts about the hospital:
It costs $1.8 million a day to operate St. Jude.

70% of the funds come from the public

Thanks to donors like you, no family ever pays St. Jude for anything, including lodging, food and travel.

Research findings at St. Jude are shared freely with doctors and scientists all over the world.

In 1962 when St. Jude opened, the survival rate for acute lymphoblastic leukemia (ALL), the most common form of childhood cancer, was 4 percent. Today, the survival rate for this once deadly disease is 94 percent, thanks to research and treatment protocols developed at St. Jude.

St. Jude has treated children from all 50 states and from around the world.

On average, 7,800 active patients visit the hospital each year, most of whom are treated on an outpatient basis.

St. Jude has 78 inpatient beds and treats upwards of 260 patients each day.
View More