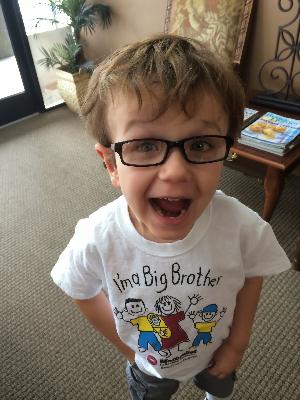 My friend Stephen Hackett has a son who could have easily become an archived medical record number at any major children's hospital. At six months old, baby Josiah was diagnosed with a Glioma Astrocytoma (brain cancer). He was unable to use the left side of his body. The doctors believed that he wouldn't be able to see out of his left eye, that he wouldn't be able to walk, and that he would lose his battle with cancer before his 3rd birthday.
Today, thanks to God's blessing and the dedication of the people at St. Jude Children's Research Hospital, Josiah is more than just a number. He just celebrated 6th birthday. He is chasing his Uncle around the house. He is smiling in photos taken by his father. He is being held in his mother's arms. And he is running with his sister through the laundry hanging on the line. Some people would say Josiah's recovery is a miracle, but his fight for survival is a battle not yet won.
Josiah has undergone extensive treatment and care at St. Jude. He has been through brain surgery, shunt replacement, g-tube placement, port installation, 16 rounds of chemotherapy, countless hours of physical therapy, and a truckload of medications he must take every day for the rest of his life. As an outpatient, Josiah's medical bills alone have reached over TWO MILLION DOLLARS. If it wasn't for his proximity to St. Jude in Memphis, Tennessee, he would have spent the majority of his young life living in a hospital, and his family would owe even more for his transportation and stay.
As of today, Josiah Hackett and his family don't owe a thing. St. Jude doesn't charge a family any more than their insurance will cover. That means that my friend Stephen has not paid a CENT in over FIVE YEARS for his son's treatment and NEVER WILL! St. Jude covers not just the cost of treatment, medication, and PT, but the price of transportation to Memphis and all of the living expenses including meals. Imagine what it costs to send a hospital full of young cancer patients and their families to St. Jude for treatment, housing, food, and care. It should be no surprise that St. Jude spends over 1.7 MILLION DOLLARS a day towards caring.
I am asking for your help in raising money for St. Jude and to save a child's life. Cancer is not a number. It is a terrible disease that is robbing us of our children and stealing away our future. Even if you don't see the face of Cancer every day, you know the smiles of children we can't afford to let slip away.
Last year I reached my goal by raising $5,000 for St. Jude. This year I hope to do the same. I have already donated another towards Josiah's treatment, and look forward to spending the next several months training for December 5th when I can fly down to Memphis and run 26.2 miles with Josiah on my mind. In the past I have run races for myself, but this time I am doing it for a little boy with brain cancer who needs our help. Please consider giving what you can. If not for me, Stephen, Josiah, or St. Jude, then to fight a terrible disease that is stealing our children's future one smile at a time.
View More