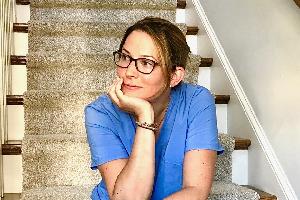 I recently had the privilege of attending a St. Jude Blogger Tour. I went to Memphis as a longtime supporter of St. Jude and had made assumptions of what I thought it would be like. As a registered nurse with oncology experience, writer, and mom with two young children, I can honestly say it exceeded any expectations I ever had. Having the unique opportunity to see firsthand how the mission of St. Jude Children's Research Hospital is being carried out every day, I can share with you that it is a life-changing experience. Determination, compassion, and care can be felt everywhere at St. Jude. If I can help in any way with fundraising efforts, it will be my honor. I'm running for kids who might be too sick to run today, but who could one day be running alongside me because the money I raised helped find a cure for childhood cancer.
Families never receive a bill from St. Jude for treatment, travel, housing or food -- because all a family should worry about is helping their child live.
Treatments invented at St. Jude have helped push the overall childhood cancer survival rate from 20% to more than 80% since it opened more than 50 years ago. St. Jude won't stop until no child dies from cancer.
Danny Thomas said, "no child should die in the dawn of life." Please consider making a tax-deductible donation. Any amount is truly appreciated.
Thank you,
Linda Scruggs RN, BSN
_____________________
On Instagram, FB, Pinterest, YouTube: @UnboxedMom
On Twitter: @UnboxedMom
UnboxedMom.com
View More