WALT DISNEY WORLD® Marathon Weekend presented by Cigna
Orlando, FL • January 9-13, 2019
FUNDS RAISED FOR St. Jude
OUR PROGRESS
LOCATION
Walt Disney World Resort
Spots available for the DOPEY, Half Marathon, 10K & 5K!
Register today and secure your spot!
Do more with your race. Be a Hero, and run for the kids of St. Jude.
Join us for the 2019 Walt Disney World® Marathon Weekend in Orlando, FL. As a St. Jude Hero, you'll raise funds for the kids of St. Jude while you train for your race. When you join, you will be part of a nationwide alliance against childhood cancer.
*CHANGES THIS YEAR!*
A two-night minimum hotel and a two-day base ticket package is required with all race options. St. Jude will introduce you to our official Disney travel coordinator who will assist you with building a customized plan for your trip to Walt Disney World®. You will be able to take advantage of special resort pricing for event weekend, add nights to your stay, arrange theme park tickets and dining plans, as well as add other amenities for your stay.
Please Note: Registering as a St. Jude Hero does not guarantee your entry to this event. A St. Jude representative will contact you to confirm your Hero registration and your fundraising commitment. A fundraising commitment is required with registration.
When you receive a race bib through the St. Jude Heroes program, you will need to have a minimum two-night hotel accommodation at an approved Walt Disney World® Resort and a two-day base ticket (park ticket). If you are an Annual Passholder, the ticket requirement may be waived as long as ALL guests in the room are Annual Passholders.*Participants that live in the Orlando area can have the hotel option waived but must purchase at least one day base ticket. Proof of residency/booking is required.*
All Disney names and logos are used with permission, which in no way constitutes an endorsement by Disney, express or implied, of any organization, company, or fundraising campaign. Disney does not control or guarantee the accuracy, relevance, timeliness or completeness of information contained on this website. The views and opinions of authors expressed herein do not necessarily reflect those of Disney, and agreement with those views may not be implied by use of the Disney names and logos. ęDisney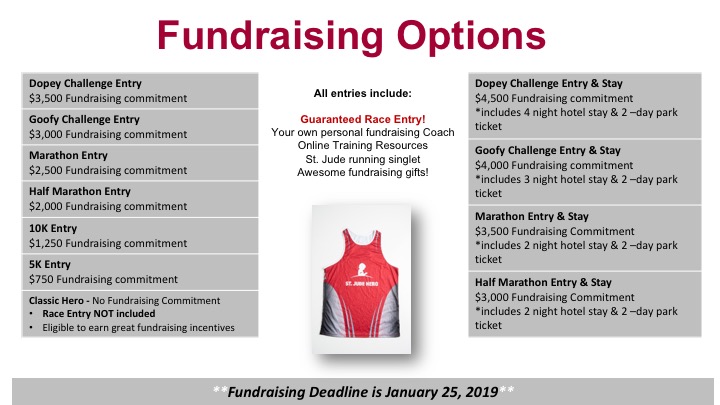 If you have questions or would like more information, please email susan.graham@stjude.org, or call 901-232-5572.