Wedding Web pages
Honor your friend's or family member's wedding, or invite your wedding guests to give a donation in lieu of wedding gifts.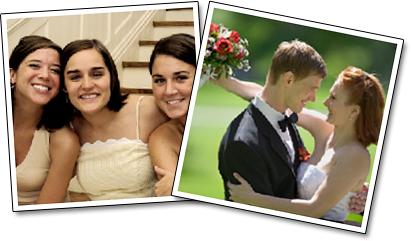 Create a wedding page
A wedding page is a website where donations can be made to St. Jude in one place to honor a wedding couple. Donations can be made in lieu of or in addition to receiving gifts.
The wedding couple or someone in their party will need to initially create the page with an image and information about the couple and wedding date. Once the page is set up, emails can be sent out pointing people to the honor page.
Anyone that views the site will be able to make a donation and see how many total donations have been made to St. Jude in the couple's honor.
Search for a wedding page
If someone has already set-up a page for the bride and groom and it is posted publicly, you can search for the couple's fund page and make a donation in their honor.
Wedding cards are also available with a donation if the bride and groom have not set up a page.
Wedding favors are also available for the bride and groom to honor their guests on their wedding day.